By Lisa on October 6, 2016
The Cascade Blues Association holds its gala event, the Muddy Waters Awards, every November, celebrating the best in blues in the Pacific NW region. This year, Lisa Mann garnered four nominations, for Contemporary Blues Act, "Duffy Bishop" Female Vocalist, Bass Guitar, and NW Recording. Lisa would like to thank the CBA and its membership, and remind everyone to join their local blues society and get involved!
Here is the complete list of 2016 Muddy Awards Nominations:
Contemporary Blues Act:
Ben Rice Band
Kevin Selfe & The Tornadoes
Lisa Mann & Her Really Good Band
Thunder Brothers
Traditional Blues Act:
AC Porter & The Live Wires
Ben Rice Band
Julie Amici
Kevin Selfe & The Tornadoes
"Lloyd Jones" R&B Act:
Andy Stokes
Ken DeRouchie Band
Norman Sylvester Band
Regional Blues Act:
Gabriel Cox
Hank Shreve Band
Polly O'Keary & The Rhythm Method
Sammy Eubanks
New Act:
Harvey Brindell & The Tablerockers
The Blues Cabaret
Thunder Brothers
"Duffy Bishop" Female Vocalist:
LaRhonda Steele
Lisa Mann
Rae Gordon
"Curtis Salgado" Male Vocalist:
Andy Stokes
Ben Rice
Brian Foxworth
Earl Thomas
Electric Guitar:
Alan Hager
Ben Rice
Kevin Selfe
"Terry Robb" Acoustic Guitar:
Alan Hager
Ben Rice
Lloyd Jones
Mary Flower
Bass:
Allen Markel
David Kahl
Lisa Mann
Keyboards:
Dave Fleschner
Dover Weinberg
Steve Kerin
"Jimi Bott" Drums:
Brian Foxworth
Dave Melyan
Don Shultz
Harmonica:
Franco Paletta
Hank Shreve
Jim Wallace
Mitch Kashmar
Horns:
Brad Ulrich
Chris Mercer
Joe McCarthy
Peter Moss
Venue:
Lake Theater & Café
The Blue Diamond
Trails End Saloon
NW Recording:
Curtis Salgado – The Beautiful Lowdown
Karen Lovely – Ten Miles Of Bad Road
Kevin Selfe – Buy My Soul Back
Lisa Mann – Hard Times, Bad Decisions
National Recording:
Bonnie Raitt – Dig In Deep
Curtis Salgado – The Beautiful Lowdown
Danielle Nicole – Wolf Den
Janiva Magness – Love Wins Again
Tedeschi Trucks Band – Let Me Get By
NW Event:
Bronze Blues & Blues Festival
Gorge Blues & Brews Festival
Mysti Krewe Of Nimbus Mardi Gras Ball
United By Music North America at Hotel Rose
Performance of the Year:
Kevin Selfe Buy My Soul Back CD Release Party at Bossanova Ballroom
Karen Lovely at Waterfront Blues Festival
United By Music North America at Waterfront Blues Festival
Lifetime Achievement:
David Kahl
Frankie Redding
Jimi Bott
MORE >>
Posted in News
By Lisa on May 24, 2016
Lisa Mann wins second BMA, releases new CD Hard Times, Bad Decisions
Lisa Mann and her power trio toured California, Arizona and Texas on the way to the Blues Foundations 2016 Blues Music Awards. There she had the honor of performing the opening set with soul blues artists Tad Robinson, Billy Price, Missy Andersen and Frank Bey, and later that evening was awarded with the BMA in the category Instrumentalist-Bass. This counts as Lisa's second win in a row.
Upon her return to Portland, Lisa's latest CD Hard Times, Bad Decisions was unleashed upon the world on her own independent label JayRay Records. This blues-rock release features her Really Good Band (Jason JT Thomas, Michael Ballash, Brian Harris) as well as featured performers including guitar guru Kirk Fletcher, soul man Andy Stokes, and legendary rock drummer Vinny Appice.
The new release is now available worldwide HERE.
MORE >>
Posted in News
By jenjo on May 11, 2016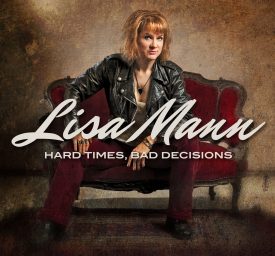 The latest in "Tough Girl Blues" from Blues Music Award winner Lisa Mann.  Hard Times, Bad Decisions covers a wide range of styles, from swampy blues-rock to old school soul to classic jump swing, all tied together with Lisa's signature bombastic delivery.   The collection features eight of Lisa's original compositions and four covers, including a vampy take on Dinah Washington's classic "I Don't Hurt Anymore." Guest stars include Kirk Fletcher (of Joe Bonamassa's Muddy Wolf at Red Rocks fame), Vinny Appice (formerly of Black Sabbath and Ronnie James Dio), Andy Stokes (formerly of Oregon Music Hall of Fame inductee Cool'R) Louis Pain (B-3 Hammond master) and International Blues Challenge finalist Ben Rice.
Lisa Mann hails from blues-soaked Portland, OR, where she has been inducted in the Cascade Blues Association's Hall of Fame. In 2015 in Memphis TN she received the most coveted award in blues, a Blues Music Award, for her skills on bass guitar. Just last week in Memphis, Lisa won the 2016 BMA again in the same category!
Originally from West Virginia, Mann's voice effortlessly straddles the line between the honey sweet warmth of the South, and the force-of-nature sound Mann has cultivated by mastering everything from rock to Memphis soul. Her clever blues balladry is complimented by her considerable prowess on bass, with grooves that touch on the hallowed soil of Soul greats James Jamerson and Bob Babbitt.
MORE >>
Posted in News
By Lisa on December 26, 2014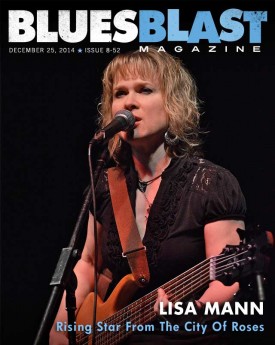 Terry Mullins interviews Blues Blast's Sean Costello Rising Star award winner Lisa Mann in this Christmas edition of Blues Blast Magazine excerpt: The bass-playing dynamo took home the Sean Costello Rising Star Award at this year's Blues Blast gala, after she had practically burned down the stage with her performance earlier in the evening at the annual shindig. And even more recently, Mann found her name on the list of nominees for Best Bass Player at the upcoming Blues Music Awards (BMAs) in Memphis.
"It's been kind of a whirlwind and a lot of this has really taken me by surprise. A lot of the guys that were up for the Sean Costello Award have some history and labels and people behind them. And me, I'm an indie artist … but apparently I have more fans and friends than I knew were out there," she said. "For one thing, (awards and nom inations) it means fan recognition. It's kind of like getting a big round of applause. But it's also getting recognition from my peers. I was so honored just to get the nomination for the Blues Blast award in the first place, because I know they (nominators for Blues Blast awards) are people who are in the industry and are people who listen to a lot of blues. There's so much good music out there, for them to choose me was a big honor. That industry recognition is really special. And it's the same way with the BMA nomination. Just to be put in the company of such great bass players is really an honor. It feels really good and I feel really humbled."
Mann and The Really Good Band won a Muddy Waters Award – presented by the Cascade Blues Association – for Contemporary Blues Act of the Year this past November, while Mann was also named Bass Player of the Year and her latest album, Move On, took Recording of the Year honors that were handed out by the association.
MORE >>