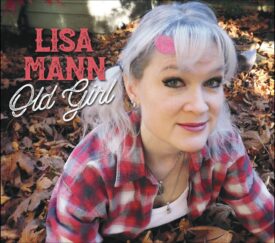 Lisa Mann – Old Girl
Jay-Ray Records – 2020
There must be a house in Portland, Oregon, that is really rocking as Lisa Mann is married to another bass player, Allen Markel, who tours with Sugaray Rayford amongst others. Born in Virginia and based in the Pacific North West, Lisa has established a good reputation as vocalist, songwriter and bassist across a series of albums since 2010. She won the Blues Blast Sean Costello Award for Rising Star in 2014 and was nominated for a BMA as bassist in 2015 and 2016. Since her last album Hard Times, Bad Decisions in 2016 she has consolidated her reputation with several European tours as well as festivals across the states.
Lisa's latest offering is just five tracks but they are all excellent and well worth readers' attention. Lisa wrote four of the songs and tackles a Sister Rosetta Tharpe tune to complete the project on which she is backed by her touring outfit 'The Really Good Band': Lisa on bass/vocals, Jason Thomas on guitar and Michael Ballash or Dave Melyan on drums; Louis Pain adds organ to two cuts and Sonny Hess, Brian Foxworth, Larhonda Steele and Arietta Ward add backing vocals to one track.
The title track has a mournful country feel as Lisa bemoans that she is competing in a world where youth is often championed over more mature figures: "I ain't 24 but I don't need you to get the door. Most of my days I'm feeling strong and I think I believe I can get along as an old girl". With some ringing chords from Jason and warm accompaniment from Louis "Old Girl" makes a good start to the EP. The strange title "It's The Monkeys Or Me" is apparently based on a true story in which girl meets boy and all proceeds well until she gets inside his house in which there are actual monkeys, hence the title as she lays down how the future will be. The amusing lyrics are sung over an upbeat, rocking tune with strong guitar. Lisa takes a wry look at the difficult life of the musician in "Everybody's Making Money": "I believe this is the life for me but making music is not easy, you see, everybody's making money but me"! The cover of Sister Rosetta Tharpe's 1938 song "That's All" is probably the track with the highest blues quotient and elicits a fine vocal from Lisa and plenty of solid blues guitar work from Jason.
Saving the best till last "Around Here" pays tribute (anonymously) to musicians who have passed on to the great gig in the sky, the gospel feel accentuated by Louis' organ and the vocals. The chorus sums up the song's intentions perfectly: "Around here we revere the ones that came before. We may not know them but they're our legends for evermore. They may not be pictured in the Rolling Stone magazine but we will remember them always, round here." Lisa sings beautifully in a soulful style, brilliantly supported by the backing vocalists. Prepare to be moved by this fine song which is more than worth the purchase price of the disc on its own.
A super mini-set which whets the appetite for another full album from Lisa.
~ John Mitchell, Blues Blast Magazine – July 30, 2021