By Lisa on October 12, 2021
Lisa Mann's song "It's the Monkeys or Me" took first place in the Blues Category in the 2021 Unsigned Only Music Competition!
"It's the Monkeys or Me" is a true (and hilarious) story based on the love life of one Joanne Broh, a fellow musical artist from Oregon. Imagine yourself falling in love, only to find your new love has a house full of monkeys screaming and jumping around? Well, see how it all turned out by checking out the video for this track from the Billboard charting EP, "Old Girl" –
https://www.youtube.com/watch?v=mHKOFAVI9vs
You can find all the winners of the competition here:
https://unsignedonly.com/winners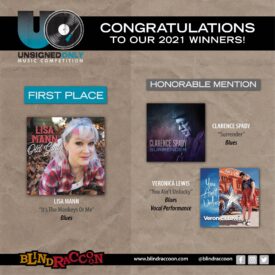 MORE >>
Posted in News
By jenjo on July 30, 2021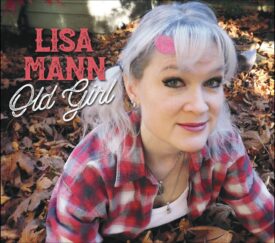 Lisa Mann – Old Girl
Jay-Ray Records – 2020
There must be a house in Portland, Oregon, that is really rocking as Lisa Mann is married to another bass player, Allen Markel, who tours with Sugaray Rayford amongst others. Born in Virginia and based in the Pacific North West, Lisa has established a good reputation as vocalist, songwriter and bassist across a series of albums since 2010. She won the Blues Blast Sean Costello Award for Rising Star in 2014 and was nominated for a BMA as bassist in 2015 and 2016. Since her last album Hard Times, Bad Decisions in 2016 she has consolidated her reputation with several European tours as well as festivals across the states.
Lisa's latest offering is just five tracks but they are all excellent and well worth readers' attention. Lisa wrote four of the songs and tackles a Sister Rosetta Tharpe tune to complete the project on which she is backed by her touring outfit 'The Really Good Band': Lisa on bass/vocals, Jason Thomas on guitar and Michael Ballash or Dave Melyan on drums; Louis Pain adds organ to two cuts and Sonny Hess, Brian Foxworth, Larhonda Steele and Arietta Ward add backing vocals to one track.
The title track has a mournful country feel as Lisa bemoans that she is competing in a world where youth is often championed over more mature figures: "I ain't 24 but I don't need you to get the door. Most of my days I'm feeling strong and I think I believe I can get along as an old girl". With some ringing chords from Jason and warm accompaniment from Louis "Old Girl" makes a good start to the EP. The strange title "It's The Monkeys Or Me" is apparently based on a true story in which girl meets boy and all proceeds well until she gets inside his house in which there are actual monkeys, hence the title as she lays down how the future will be. The amusing lyrics are sung over an upbeat, rocking tune with strong guitar. Lisa takes a wry look at the difficult life of the musician in "Everybody's Making Money": "I believe this is the life for me but making music is not easy, you see, everybody's making money but me"! The cover of Sister Rosetta Tharpe's 1938 song "That's All" is probably the track with the highest blues quotient and elicits a fine vocal from Lisa and plenty of solid blues guitar work from Jason.
Saving the best till last "Around Here" pays tribute (anonymously) to musicians who have passed on to the great gig in the sky, the gospel feel accentuated by Louis' organ and the vocals. The chorus sums up the song's intentions perfectly: "Around here we revere the ones that came before. We may not know them but they're our legends for evermore. They may not be pictured in the Rolling Stone magazine but we will remember them always, round here." Lisa sings beautifully in a soulful style, brilliantly supported by the backing vocalists. Prepare to be moved by this fine song which is more than worth the purchase price of the disc on its own.
A super mini-set which whets the appetite for another full album from Lisa.
~ John Mitchell, Blues Blast Magazine – July 30, 2021
MORE >>
By jenjo on March 9, 2021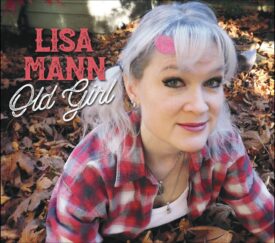 Old Girl
JayRay Records
As a child West Virginia born Lisa Mann relocated to Portland. Originally inspired by rock bands she gravitated to the Blues when she began her professional career at the age of nineteen. Early influences included Etta James, Koko Taylor, Bonnie Raitt, and Little Milton. Mann has shared the stage with Paul deLay, Lloyd Jones, Kevin Selfe, Karen Lovely and Duffy Bishop. Mann recorded her debut album "Self Material" in 2006; and followed up with 2008's "Chop Water" recorded with members of The Insomniacs. In 2010 Mann released her self-titled third album. The following year she and "Her Really Good Band" represented the Cascade Blues Society at the International Blues Challenge in Memphis. In 2012 Mann released "Satisfied"; and in 2014 "Move On", a tribute to her mother, that reached the Top 20 on the Roots Music Report Blues Chart. In 2015 Mann won The Blues Blast – Sean Costello Rising Star Award. Mann also won back to back Blues Music Awards for Best Instrumentalist – Bass in 2015 and 2016. Mann's last album was 2016's highly acclaimed "Hard Times, Bad Decisions".
"Old Girl" is a five song EP co-produced and recorded by Kevin Hahn at Portland's Primal Studio. Mann, bass and vocals, is featured with "Her Really Good Band" including Jason Thomas, guitar; and either Michael Ballash or Dave Melyan, drums. Special guests include organist Louis Pain who played in the Paul deLay Band; and backing vocalists LaRhonda Steele, Arietta Ward, Sonny Hess and Brian Foxworth. Included are four new originals and one inspired cover.
The recording opens with the title track and a country styled vocal; Mann sings from the perspective of a mature woman competing in a world filled with more youthful contemporaries, as guitarist Thomas and organist Pain complete the production. "It's The Monkeys or Me" is a hilarious song inspired by the true story of her friend's romance involving pet primates. "Everbody's Making Money" includes the lyric "making music isn't easy you see, everybody's making money but me"; Thomas takes an infectious solo while Ballash hammers out the beats.
Mann pays tribute to Sister Rosetta Tharpe, a musical pioneer and inspiration, on "That's All", a plea for love and equality, written by Tharpe and first recorded on Decca Records in 1938. The gospel styled closer "Around Here" pays tribute to local legends "they may not be famous, but we will remember them around here" and features the background vocalists.
Too short of a recording; this is just a taste of what's to come from the talented Mann. These well-crafted performances should leave you begging for more.
~ Richard Ludmerer – Making A Scene, Issue 358
MORE >>
By Lisa on October 5, 2020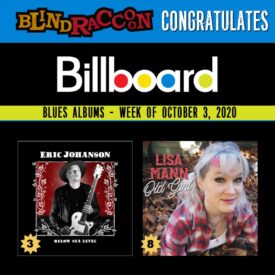 Thanks to your support, Old Girl hit the Billboard Blues chart for album sales for the week ending Oct 3, 2020!
Also big thanks to Blind Raccoon's Betsie Brown for spreading the word.
Congratulations are also due to fellow Blind Raccoon client Eric Johanson!
MORE >>
Posted in News