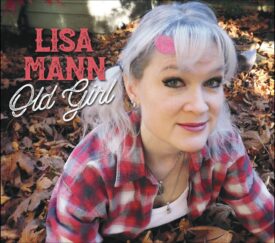 Old Girl
JayRay Records
As a child West Virginia born Lisa Mann relocated to Portland. Originally inspired by rock bands she gravitated to the Blues when she began her professional career at the age of nineteen. Early influences included Etta James, Koko Taylor, Bonnie Raitt, and Little Milton. Mann has shared the stage with Paul deLay, Lloyd Jones, Kevin Selfe, Karen Lovely and Duffy Bishop. Mann recorded her debut album "Self Material" in 2006; and followed up with 2008's "Chop Water" recorded with members of The Insomniacs. In 2010 Mann released her self-titled third album. The following year she and "Her Really Good Band" represented the Cascade Blues Society at the International Blues Challenge in Memphis. In 2012 Mann released "Satisfied"; and in 2014 "Move On", a tribute to her mother, that reached the Top 20 on the Roots Music Report Blues Chart. In 2015 Mann won The Blues Blast – Sean Costello Rising Star Award. Mann also won back to back Blues Music Awards for Best Instrumentalist – Bass in 2015 and 2016. Mann's last album was 2016's highly acclaimed "Hard Times, Bad Decisions".
"Old Girl" is a five song EP co-produced and recorded by Kevin Hahn at Portland's Primal Studio. Mann, bass and vocals, is featured with "Her Really Good Band" including Jason Thomas, guitar; and either Michael Ballash or Dave Melyan, drums. Special guests include organist Louis Pain who played in the Paul deLay Band; and backing vocalists LaRhonda Steele, Arietta Ward, Sonny Hess and Brian Foxworth. Included are four new originals and one inspired cover.
The recording opens with the title track and a country styled vocal; Mann sings from the perspective of a mature woman competing in a world filled with more youthful contemporaries, as guitarist Thomas and organist Pain complete the production. "It's The Monkeys or Me" is a hilarious song inspired by the true story of her friend's romance involving pet primates. "Everbody's Making Money" includes the lyric "making music isn't easy you see, everybody's making money but me"; Thomas takes an infectious solo while Ballash hammers out the beats.
Mann pays tribute to Sister Rosetta Tharpe, a musical pioneer and inspiration, on "That's All", a plea for love and equality, written by Tharpe and first recorded on Decca Records in 1938. The gospel styled closer "Around Here" pays tribute to local legends "they may not be famous, but we will remember them around here" and features the background vocalists.
Too short of a recording; this is just a taste of what's to come from the talented Mann. These well-crafted performances should leave you begging for more.