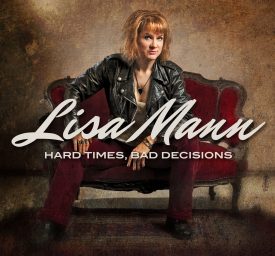 The latest in "Tough Girl Blues" from Blues Music Award winner Lisa Mann.  Hard Times, Bad Decisions covers a wide range of styles, from swampy blues-rock to old school soul to classic jump swing, all tied together with Lisa's signature bombastic delivery.   The collection features eight of Lisa's original compositions and four covers, including a vampy take on Dinah Washington's classic "I Don't Hurt Anymore." Guest stars include Kirk Fletcher (of Joe Bonamassa's Muddy Wolf at Red Rocks fame), Vinny Appice (formerly of Black Sabbath and Ronnie James Dio), Andy Stokes (formerly of Oregon Music Hall of Fame inductee Cool'R) Louis Pain (B-3 Hammond master) and International Blues Challenge finalist Ben Rice.
Lisa Mann hails from blues-soaked Portland, OR, where she has been inducted in the Cascade Blues Association's Hall of Fame. In 2015 in Memphis TN she received the most coveted award in blues, a Blues Music Award, for her skills on bass guitar. Just last week in Memphis, Lisa won the 2016 BMA again in the same category!
Originally from West Virginia, Mann's voice effortlessly straddles the line between the honey sweet warmth of the South, and the force-of-nature sound Mann has cultivated by mastering everything from rock to Memphis soul. Her clever blues balladry is complimented by her considerable prowess on bass, with grooves that touch on the hallowed soil of Soul greats James Jamerson and Bob Babbitt.