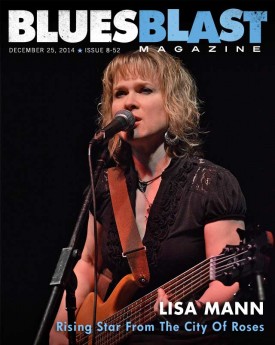 Terry Mullins interviews Blues Blast's Sean Costello Rising Star award winner Lisa Mann in this Christmas edition of Blues Blast Magazine excerpt: The bass-playing dynamo took home the Sean Costello Rising Star Award at this year's Blues Blast gala, after she had practically burned down the stage with her performance earlier in the evening at the annual shindig. And even more recently, Mann found her name on the list of nominees for Best Bass Player at the upcoming Blues Music Awards (BMAs) in Memphis.
"It's been kind of a whirlwind and a lot of this has really taken me by surprise. A lot of the guys that were up for the Sean Costello Award have some history and labels and people behind them. And me, I'm an indie artist … but apparently I have more fans and friends than I knew were out there," she said. "For one thing, (awards and nom inations) it means fan recognition. It's kind of like getting a big round of applause. But it's also getting recognition from my peers. I was so honored just to get the nomination for the Blues Blast award in the first place, because I know they (nominators for Blues Blast awards) are people who are in the industry and are people who listen to a lot of blues. There's so much good music out there, for them to choose me was a big honor. That industry recognition is really special. And it's the same way with the BMA nomination. Just to be put in the company of such great bass players is really an honor. It feels really good and I feel really humbled."
Mann and The Really Good Band won a Muddy Waters Award – presented by the Cascade Blues Association – for Contemporary Blues Act of the Year this past November, while Mann was also named Bass Player of the Year and her latest album, Move On, took Recording of the Year honors that were handed out by the association.